The A.I.M. Quantum Theoretician is a great example to how A.I.M. doesn't require brains to become a scientist, but it sure helps! This scientist knows what gadgets are. When your blasting weapon doesn't cut it, this fella's mind will!
Level & Class
Edit
Level 2


Hypothesis -
Performs a free attack against enemies who end their turn more then five (squares) in line of sight.
Abilities
Edit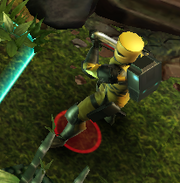 Ad blocker interference detected!
Wikia is a free-to-use site that makes money from advertising. We have a modified experience for viewers using ad blockers

Wikia is not accessible if you've made further modifications. Remove the custom ad blocker rule(s) and the page will load as expected.