Task 1: Friend or Foe
Edit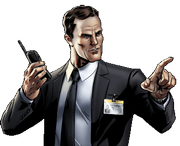 Agent Coulson: At oh-twenty hours this morning we received a signal from a mothballed S.H.I.E.L.D. outpost deep in the jungle. It has been abandoned for years, but apparently there was enough power for it's defense systems to come online.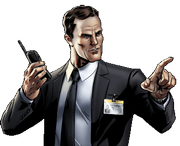 Agent Coulson: It could just be last gasp of the failing comms systems, but it was registering something big. Really big. Might be worth investigating?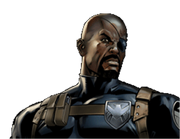 Nick Fury: Commander, get a team out there. If we have a big bad sneaking around our backyard, it needs to be dealt with.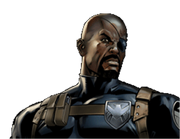 Nick Fury: Stark,sitrep. What are you seeing down there?
Iron Man: Well,imagine if hulk and mount vesuvius got married and had a baby. That's pretty much what we're seeing.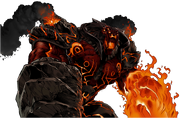 Fire Demon: I can smell your flesh,mortals. Come face me and know your destroyer!

Iron Man: Oh,and it talks like Thor, so there's that.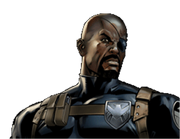 Nick Fury: Whatever it is, we can't let it loose in the Savage Land.

Iron Man: Commander,should we engage? You know what, I'm pretty sure i know the answer already; let's go punch this thing in the lava!gani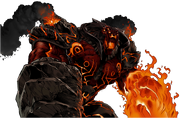 Fire Demon: You have... defeated me... but i am just a portent of things to come,human. Tell your masters to gird themselves for war. The forces of Musphlheim... are rising.
Iron Man: I'll put together a memo,as soon as i get back. Promise.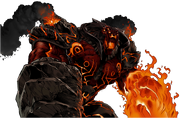 Fire Demon: Laughe while... you still can.

Iron Man: I don't know if you've noticed, but there are billion earths colliding all around us. Your war is going to have to take a number, McMagma.
Maria Hill: We're pulling our forced out commander. Let's regroup,rethink and try again.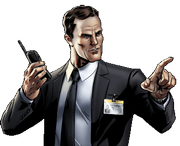 Agent Coulson: Commander, The creature dematerialized before we could get a sample but Director Fury is trying to contact thor. If that was one of musphlheim's fire demons, it might be out of our jurisdiction.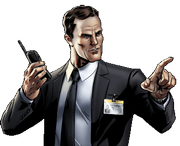 Agent Coulson: Thankfully we haven't found any more in the area.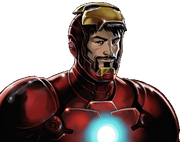 Tony Stark: I got the sense it was just a scout, testing our defenses. I'm going to work with Banner to upgrade our security sensoers. If there are any more ten foot piles of molten nightmare roaming the jungle, we'll find them.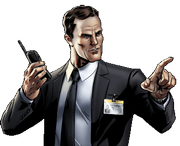 Agent Coulson: We need to start reducing the A.I.M. presence in our operational zone. One of our scout teams has discovered an A.I.M. firebase nearby, hit it and clear them out.
Maria Hill: Nice Work,commander.
Task 3: Powered Down
Edit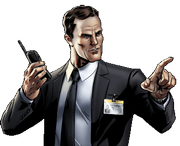 Agent Coulson: A.I.M. has developed a new generation of Power Armor, and they've dropped it right in the middle of a S.H.I.E.L.D. outpost in the area.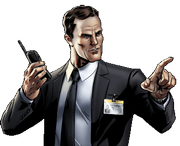 Agent Coulson: From what the staff reported, A.I.M. is using the Power Armor attack to steal plans for a top-secret Vibranium\Iso-8 alloy.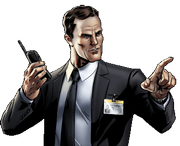 Agent Coulson: The base isn't equipped to handle this kind of an attack.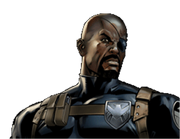 Nick Fury: Get in there and knock that Power Armor out before they can get those plans for their HQ.
A.I.M. Scientist:

The power armor is charging up. Complete the objective!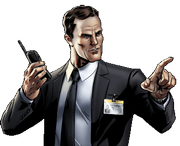 Agent Coulson: Commander, the longer that armor is allowed to charge it's weapon, the more powerful it will be. i recommend taking it out sooner the later.
Maria Hill: We're pulling our forced out commander. Let's regroup,rethink and try again.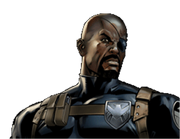 Nick Fury: Our analysts tell me A.I.M. didn't get any useful data, commander. Keep up the pursuit. We need to find the location of their HQ and find out why they want the alloy research so badly.
Task 4: Distress Signals
Edit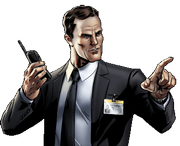 Agent Coulson: We have a priority situation. Multiple S.H.I.E.L.D. emergency transponders are going off outside our base perimeter.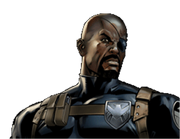 Nick Fury: It could be a trap; HYDRA setting bait for an ambush? Have you run the transponders for code clearance?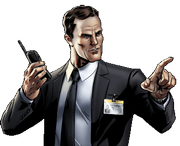 Agent Coulson: They're older codes,sir,but they check out... if we've got agents in trouble we need to get them help.
Maria Hill: Commander, i'll put the transponder locations on the map for you. Let's see what's going on.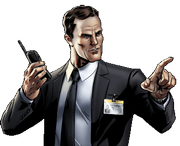 Agent Coulson: All teams have been recovered and they're getting medical treatment, Commander.
Maria Hill: We've also updated our mission security protocols for agents working remotely. It seems like the savage land is even more unfriendly then we thought.
Task 5: Radiation Poisoning
Edit

Iron Man: I found the A.I.M. base where the transmissions were being sent. It was easy. Their tech is almost as laughable as justin hammer's.

Iron Man: You also might be interested to know that Radioactive Man is there. If i had to guess, i'd say his working with A.I.M. on a new generation of power armor, using a stolen Iso-8 Alloy.

Iron Man: My ego is hurt knowing i wasn't the first on their list.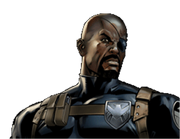 Nick Fury: Whatever their project is, it's not one we want them to complete,commander. Send a team in there with Iron Man. We'll create a jumpgate for you.
A.I.M. Scientist:

Security Breach! It's stark!
Radioactive Man:
Arc reactor technology will not save you when our new power armor becomes operational!

Iron Man: Listen, I wish i had a giant lead balloon to stick you in, I really do. But i just don't carry them around the way i used to.

Iron Man: I'd rather prevent a nuclear meltdown from your B.O. Mixing with this new Iso-8. Thankfully,Argentina isn't far so we'll get you all tucked into bed at Sierra del Medio. Maybe i'll even read you a bedtime story.
Radioactive Man:
Your confidence is admirable, Your foolishness less so.
Radioactive Man:
All too easy Stark. Now run home and let the real scientists get to work.

Iron Man: Radioactive Man is down for the count. I'm going to poke around this lab a few more minutes and see if there's any wannabe stark tech i can laugh at.
Ad blocker interference detected!
Wikia is a free-to-use site that makes money from advertising. We have a modified experience for viewers using ad blockers

Wikia is not accessible if you've made further modifications. Remove the custom ad blocker rule(s) and the page will load as expected.