Task 1: Roundup
Edit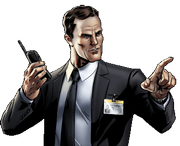 Agent Coulson: The Fixer's technologically augmented dinosaurs are a threat to S.H.I.E.L.D. operations -- not to mention the innocent inhabitants of the Savage Land. We've marked the most recent sightings on the map for you, Commander.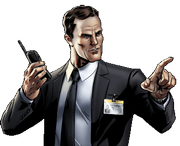 Agent Coulson: Nice job, boss.
Task 2: Silver Lining III
Edit
Maria Hill: Director Fury has asked us to step up silver acquisition, let's get some teams out there.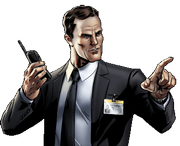 Agent Coulson: The Accounting department is relieved, boss. Good work.
Task 3: Denial Of Assets
Edit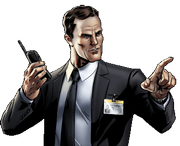 Agent Coulson: Investigating a new Incursion near Perth, Australia has also revealed an A.I.M. lab with what appears to be a stockpile of the Fixer's nanovirus.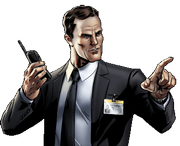 Agent Coulson: Unfortunately, it's also surrounded by dinoborgs. It's like three threats in one.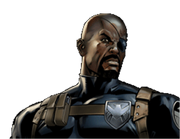 Nick Fury: Then we'll have to be triple sure none of it spills into the city.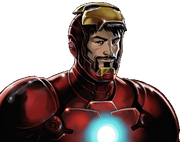 Tony Stark: Commander, the nanovirus is increasing the power of the dinosaurs. We can't let them remain exposed to it or they could become unstoppable.
Beast: I second Phil's characterization, Commander, destroying those tanks could be paramount to suppressing the threat. If at all possible, however, I could use a sample of that nanite fluid to reverse engineer their replication process.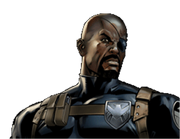 Nick Fury: Get working, geniuses. The lab is stripped clean and everything is on its way to Hank's lab on Utopia.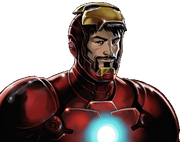 Tony Stark: I'm on my way there, too.
Reed Richards: Everything will be ready when you get here.
Task 4: Unwelcome Visitors
Edit
Reed Richards: Time to get you up to speed, Commander. Tony, Hank, and I have began piecing together what we're calling a Resonance Cascade Collapse, using tech Klaw reverse-engineered from Doom's device.
Reed Richards: If it works, we will be able to use it to halt Incursions, and possibly even reverse them... without destroying the other Earth.

Beast: Unfortunately, our work has garnered all types of unwanted attentions, and the Fixer's nanovirus is generating unfortunate consequences.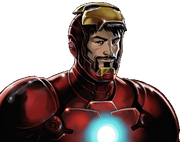 Tony Stark: Meaning we're trying to do very delicate scientific work in a lab that's under attack by several different kind of mechanical constructs. Led by the Fixer no doubt.
Reed Richards: Keep them off our backs while we get this done, if you don't mind.
A.I.M. Power Armor: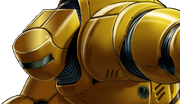 Fight***squee***ture!
Hydra Power Armor:
zzk---HYDRA!
Reed Richards: We've got the last component of the Collapser installed. Now we'll see if it works...

Beast: Many thanks, Commander. Your help was integral in this process.
Reed Richards: It appears to be working! The Incursion field is destabilizing!

Beast: We should exercise caution until the exact effects of the Collapser are known. Everyone vacate the area, please!
Task 5: Snap out of it!
Edit
Reed Richards: Fury, I just got an emergency message from Cyclops back on Utopia. The Fixer's nanovirus has gotten into Omega Sentinel. It must have been samples we acquired in Perth!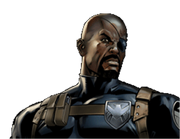 Nick Fury: She's a valuable asset, and she'd make a terrifying adversary. Help Cyclops get control of the situation, Commander.
Omega Sentinel: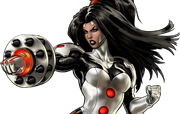 Mutant will surrender.

Cyclops: Karima, you have to--
Omega Sentinel: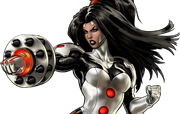 Mutant has failed to surrender. Engaging combat protocols.

Cyclops: I could use a little help here.
Beast: If the nanovirus is amplifying her aggression and exertion, I'd advise destroying the suspension chambers before engaging Karima directly.

Cyclops: Karima's down. I need all hands on deck here.
Beast: I should have realized the danger to her when we took on the samples. She's suffered too much for us to be this careless again.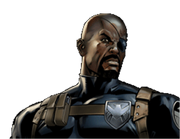 Nick Fury: If the Omega Sentinel isn't reliable, I don't want her reactivated.
Beast: A cold assessment, Director. There are ways to bring her back on-line safely. We have the technology. We can rebuild--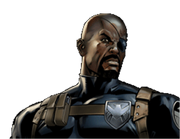 Nick Fury: Stop. Just do it if you can. And if you can't...

Beast: Consider it taken care of. I'm purging the Fixer's virus and coding in new defenses based on A.I.M. and Fixer nanotech. Think of it as a vaccine, if you will.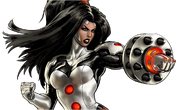 Omega Sentinel: Hank. Did you--? I can think again.
Beast: Good to have you back, my dear.
Ad blocker interference detected!
Wikia is a free-to-use site that makes money from advertising. We have a modified experience for viewers using ad blockers

Wikia is not accessible if you've made further modifications. Remove the custom ad blocker rule(s) and the page will load as expected.