Task 1: Safecracker
Edit
Maria Hill: Some of the Incursion S.H.I.E.L.D. bases in the Savage Land are building secure vaults to protect themselves and their resources. Let's take some down and send them a message that this Earth is ours.

Maria Hill: The assault team reports mission complete. As hard as it is to remember these other S.H.I.E.L.D. bases are after our planet, every day we hold out is another day closer to saving the Universe.
Task 2: Red Shift
Edit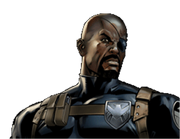 Nick Fury: We're monitoring a new situation in the Savage Land. Someone, apparently wearing a red armored suit, is hunting and capturing dinosaurs.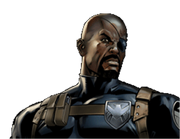 Nick Fury: The dinosaurs are trying to escape him, and doing a lot of damage in the process. Commander, deploy a team to find out who's responsible... and settle those dinosaurs down while you're at it.
In-Fight:
Crimson Dynamo: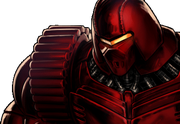 S.H.I.E.L.D. heroes come to find me -- an honor! Welcome to Savage Land! Is many dinosaurs here for great project!
Crimson Dynamo: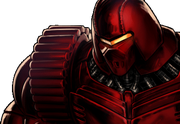 You have not seen end of Crimson Dynamo! Or of dinosaurs! Ha! Just wait...
Completed: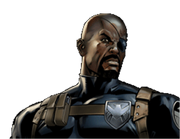 Nick Fury: Relocate the dinosaurs and let them recover. We're sending other teams out to track the Crimson Dynamo.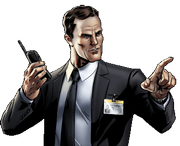 Agent Coulson: He can't have been doing this on his own, boss. What's he going to do with a bunch of dinosaurs?
Maria Hill: If he wasn't, maybe he'll lead us to whoever is doing the collecting and they can shed some light on it.
Task 3: Not Your Average Dinosaur
Edit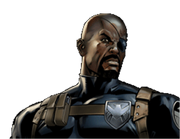 Nick Fury: S.H.I.E.L.D. scientists have been chased away from one of our experimental research sites by...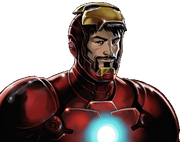 Tony Stark: Cyber-saurs? Dino-borgs? Tech-o-saurs?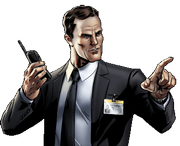 Agent Coulson: Dinoborgs has a nice ring to it.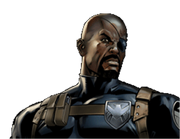 Nick Fury: Rescue the technology, Commander. We'll name the lizards later.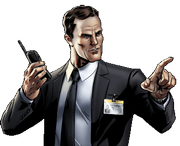 Agent Coulson: The device is safely in S.H.I.E.L.D. hands, sir, as are a few of the biological specimens. Can we call them dino-borgs?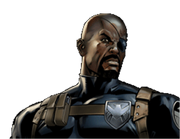 Nick Fury: Call them whatever you want, Coulson. Just keep them off my plane.
Task 4: Danger Zone II
Edit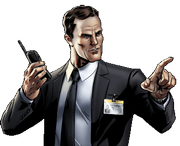 Agent Coulson: The team is growing well, sir. Let's have our Heroes complete more flight deck mission to develop their experience.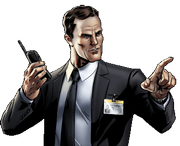 Agent Coulson: A tired Flight Deck pilot is a happy Flight Decl pilot, Commander. I'd say our crews are pretty happy right now.
Task 5: Enter the Wolverine
Edit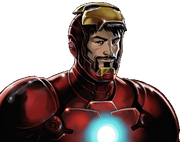 Tony Stark: I have good news and bad news. The good part is I've identified some of this tech as A.I.M.-derived.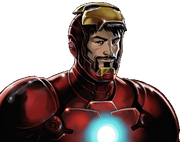 Tony Stark: The bad news is that I've also found nanotech that could only have come from our old pal Fixer.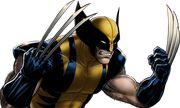 Wolverine: I got some news of my own. Beast just tracked Fixer to an A.I.M. lab in Tasmania. And there's a whole her of his new dinosaurs here, too.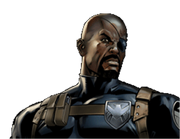 Nick Fury: Commander, you know what to do. Wolverine can handle Fixer, but you'll need a whole team there to keep those dinosaurs from getting loose.
Fixer:

I warn you, Wolverine. Take one step further, and I will unleash my augmented dinosaurs all over the world!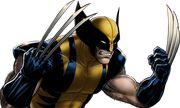 Wolverine: Like you'll just keep them to yourself if I go home, right bub?
Fixer:

You have destroyed my construct, but there are plenty more where this one came from... and soon there will be more augmented dinosaurs as well!
Fixer:

I've just unleashed a nanocloud over the Savage Land. Wait until you see what those little replicators do to the saurian population! It will also have a number of interesting effects on other cybernetic systems... as you shall soon find out.
Fixer:

Until next time, S.H.I.E.L.D. and Wolverine: Adieu!
Beast: Logan, please secure everything related to Fixer's work within the lab. The more we know about the nanocloud, the faster a countermeasure can be developed.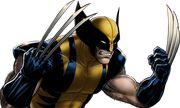 Wolverine: You got me confused with someone that knows something about nanotech, Hank. All this science stuff looks the same to me.
Beast: Indeed. Then please ensure everything remains safe until the S.H.I.E.L.D. scientists arrive.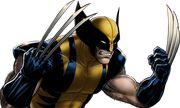 Wolverine: Babysit the beakers until the nerds arrive. You got it bub.
Ad blocker interference detected!
Wikia is a free-to-use site that makes money from advertising. We have a modified experience for viewers using ad blockers

Wikia is not accessible if you've made further modifications. Remove the custom ad blocker rule(s) and the page will load as expected.