Below are all of the dialogues including iron man:
Assignment 1
Edit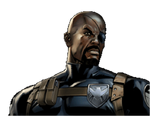 Nick Fury:
Stark,sitrep. What are you seeing down there?
Iron Man: Well,imagine if hulk and mount vesuvius got married and had a baby. That's pretty much what we're seeing.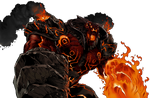 Fire Demon: I can smell your flesh,mortals. Come face me and know your destroyer!
Iron Man: Oh,and it talks like Thor, so there's that.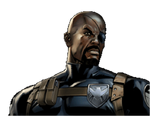 Nick Fury: Whatever it is, we can't let it loose in the Savage Land.
Iron Man: Commander,should we engage? You know what, I'm pretty sure i know the answer already; let's go punch this thing in the lava!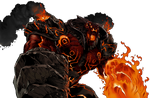 Fire Demon: You have... defeated me... but i am just a portent of things to come,human.
Tell your masters to gird themselves for war. The forces of Musphlheim... are rising.
Iron Man: I'll put together a memo,as soon as i get back. Promise.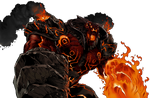 Fire Demon: Laughe while... you still can.
Iron Man: I don't know if you've noticed, but there are billion earths colliding all around us. Your war is going to have to take a number, McMagma.
Iron Man: I found the A.I.M. base where the transmissions were being sent. It was easy. Their tech is almost as laughable as justin hammer's.
Iron Man: You also might be interested to know that Radioactive Man is there. If i had to guess, i'd say his working with A.I.M. on a new generation of power armor, using a stolen Iso-8 Alloy.
Iron Man: My ego is hurt knowing i wasn't the first on their list.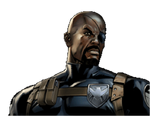 Nick Fury: Whatever their project is, it's not one we want them to complete,commander. Send a team in there with Iron Man. We'll create a jumpgate for you.
A.I.M. Scientist:
Security Breach! It's stark!
Radioactive Man: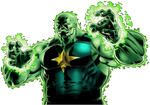 Arc reactor technology will not save you when our new power armor becomes operational!
Iron Man: Listen, I wish i had a giant lead balloon to stick you in, I really do. But i just don't carry them around the way i used to.
Iron Man: I'd rather prevent a nuclear meltdown from your B.O. Mixing with this new Iso-8. Thankfully,Argentina isn't far so we'll get you all tucked into bed at Sierra del Medio. Maybe i'll even read you a bedtime story.
Radioactive Man: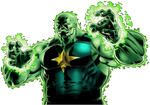 Your confidence is admirable, Your foolishness less so.
Iron Man: Radioactive Man is down for the count. I'm going to poke around this lab a few more minutes and see if there's any wannabe stark tech i can laugh at.
Ad blocker interference detected!
Wikia is a free-to-use site that makes money from advertising. We have a modified experience for viewers using ad blockers

Wikia is not accessible if you've made further modifications. Remove the custom ad blocker rule(s) and the page will load as expected.