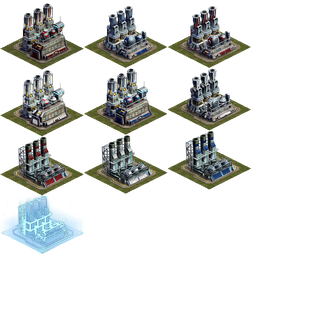 "The Refinery processes and packages raw ISO-8." ~ Iso-8 Refinery PvP Loading Screen
The Iso-8 Refinery produces a steady stream of Refined Iso-8. Sadly, it has been poorly designed and suffers from a great deal of red tape, as it only has enough space within it to hold thirty minutes worth of production and seemingly cannot transport any of it to the S.H.I.E.L.D. Vault without the express permission of the Commander.
While being upgraded, the Refinery will continue to produce Refined Iso-8, at the original level. Once upgraded, it will begin producing at the new level.
| | | | | | | |
| --- | --- | --- | --- | --- | --- | --- |
| Level | Time | Refined Iso-8 | Silver | Max Capacity | Production per Hour | Requirements |
| 1 | 5 Minutes | 38 | 0 | 120 | 240 | Command Center level 1 |
| 2 | 1 Hour | 115 | 0 | 240 | 480 | Command Center level 2 |
| 3 | 2 Hours | 201 | 0 | 360 | 720 | Command Center level 3 |
| 4 | 4 Hours | 352 | 0 | 480 | 960 | Command Center level 4 |
| 5 | 6 Hours | 616 | 0 | 600 | 1,200 | Command Center level 5 |
| 6 | 8 Hours | 1,078 | 0 | 720 | 1,440 | Command Center level 6 |
| 7 | 12 Hours | 1,885 | 0 | 840 | 1,680 | Command Center level 7 |
| 8 | 18 Hours | 3,299 | 0 | 960 | 1,920 | Command Center level 8 |
| 9 | 1 Day | 5,773 | 0 | 1,080 | 2,160 | Command Center level 9 |
| 10 | 36 Hours | 10,103 | 0 | 1,200 | 2,400 | Command Center level 10 |
| 11 | 3 Days | 17,679 | 0 | 1,320 | 2,640 | Command Center level 11 |
| 12 | 5 Days | 30,938 | 0 | 1,440 | 2,880 | Command Center level 12 |
| 13 | 5 Days | 54,141 | 0 | 1,560 | 3,120 | Command Center level 13 |
| 14 | 5 Days | 94,747 | 0 | 1,680 | 3,360 | Command Center level 14 |
| 15 | 5 Days | 165,807 | 0 | 1,800 | 3,600 | Command Center level 15 |