Klaw Articles and Topics:

Below are all of the dialogues including iron man:
Assignment 2
Edit
Task 5: De-Klawed
Edit
Black Panther: Step away from the incursion, Klaw. It will destory you.
Klaw:

Don't you understand? The incursion has remade me. The incursions give life, not take it away.
Black Panther: That does no correspond with my experience. I need you to leave this place, or i shall have no choice but to stop you.
Klaw:

Do your best, T'Challa. A.I.M. has given me the gift of being whole once more, and then i will leave; for another world.
Black Panther: Commander,we must stop these technicians before they can rebuild Klaw's solid form!
Black Panther: You have two choices, Klaw.
Black Panther: One,Spend the rest of your brand new life on the Raft. Or two --
Klaw:

You put me down right here?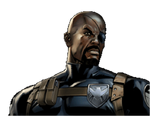 Nick Fury: i had something else in mind.
Klaw:

Let me guess. Using me as a stereo on your Helicarrier?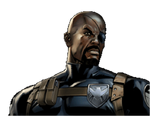 Nick Fury: The world is a scary place right now,Mr. Klaw. We're spread thin dealing with an enemy that doesn't have a face.
Black Panther: We need all the help we can get. Even if it means turning toward the most unlikely of allies.
Klaw:

I'm listening..
Ad blocker interference detected!
Wikia is a free-to-use site that makes money from advertising. We have a modified experience for viewers using ad blockers

Wikia is not accessible if you've made further modifications. Remove the custom ad blocker rule(s) and the page will load as expected.