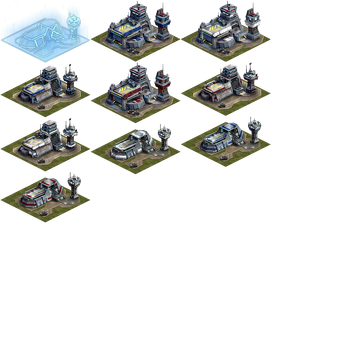 "The Hangar houses and maintains S.H.I.E.L.D. transports." ~ Quinjet Hangar PvP Loading Screen
The Quinjet Hangar is where Quinjets are housed when not sent by the Commander on missions. The first Quinjet is provided for free during the tutorial when the Hangar is built, but additional jets cost 100,000 Silver (in addition to the cost of upgrading the Hangar to level 6 and 11). Because of this cost, purchasing new Quinjets also requires a S.H.I.E.L.D. Vault of level 7 or higher. S.H.I.E.L.D. protocols seem to prevent too many resources being allocated to a single cause, as two or more Quinjets cannot be sent to the same location to deploy more than four heroes or agents to the scene of an assignment.
Quinjets can be renamed from their original designation of "Quinjet [Number]", but this option appears in the Quinjets tab on the lower right of the Base or World maps, not at the Hangar.
While being upgraded, the Hangar still allows for the deployment of Quinjets, but the pop-up tab will show "Quinjets: X/0", where X is the number of Quinjets currently purchased and available for use.
Level
Time
Refined Iso-8
Silver
Requirements
Quinjets
1
 ?
 ?
 ?
Command Center

level 1

1
2
 ?
 ?
 ?
Command Center

level 2

1
3
30 Minutes
51
603
Command Center

level 3

1
4
1 Hour
88
1,056
Command Center

level 4

1
5
2 Hours
154
1,847
Command Center

level 5

1
6
4 Hours
270
3,232
Command Center

level 6

2
7
6 Hours
472
5,655
Command Center

level 7

2
8
8 Hours
 ?
 ?
Command Center

level 8

2
9
10 Hours
1,444
17,319
Command Center

level 9

2
10
12 Hours
2,526
30,307
Command Center

level 10

2
11
1 Day
4,420
53,037
Command Center

level 11

3
12
2 Days
7,735
92,814
Command Center

level 12

3
13
Command Center

level 13

3
14
Command Center

level 14

3
15
Command Center

level 15

3