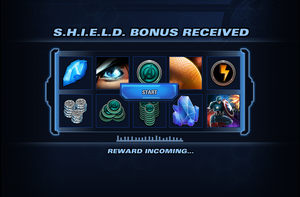 S.H.I.E.L.D. Bonuses can be won after successfully completing a specific task or after a boss fight. Bonuses can be won by level up and destroying the last building in a player's base
The Bonus can be Respin with 5 Gold.
Boss battles give higher tier rewards.
The following can be won from the roulette:
Random Iso-8 Chip (3 chips with defeat of PVP base)
Random Hero Action
Random Hero Guard
Random Hero Passive
10 Command Points (Boss only)
3 S.H.I.E.L.D. Points
5 S.H.I.E.L.D. Points
10 S.H.I.E.L.D. Points
500 Refined Iso-8
1000 Refined Iso-8 (Boss only)
1,500 Silver
3,000 Silver (Boss only)
1 Medium Energy Pack
Repulsor Shield- Task 1 of Assignment 1 only
Ad blocker interference detected!
Wikia is a free-to-use site that makes money from advertising. We have a modified experience for viewers using ad blockers

Wikia is not accessible if you've made further modifications. Remove the custom ad blocker rule(s) and the page will load as expected.