Of all the cyborg raptors, the Tech-Raptor Jaws is by far the most heavily modified. The head features an exoskeletal reinforcement that gives it an extra set of metal teeth. The eyes have been replaced with cybernetic equivalencies. Several areas lack any dermal plating over exposed muscle and bone. There are two cylinders on the back that seem to be used to enhance speed.
It's probably in a lot of pain. Don't feel bad about overkilling it.
Level & Class
Edit
Level 2
Scrapper
None.
Abilities
Edit
Energize Leg Actuators Edit
Target: Self.
Type: Buff.
Causes: Accelerate (Next movement range is doubled).
Steel Jaws Edit
Target: Enemy.
Type: Melee Attack.
Causes: Cracked Armor.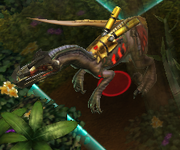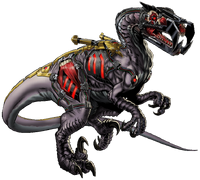 Ad blocker interference detected!
Wikia is a free-to-use site that makes money from advertising. We have a modified experience for viewers using ad blockers

Wikia is not accessible if you've made further modifications. Remove the custom ad blocker rule(s) and the page will load as expected.